Citations
Summary of publications
Research/Academic productions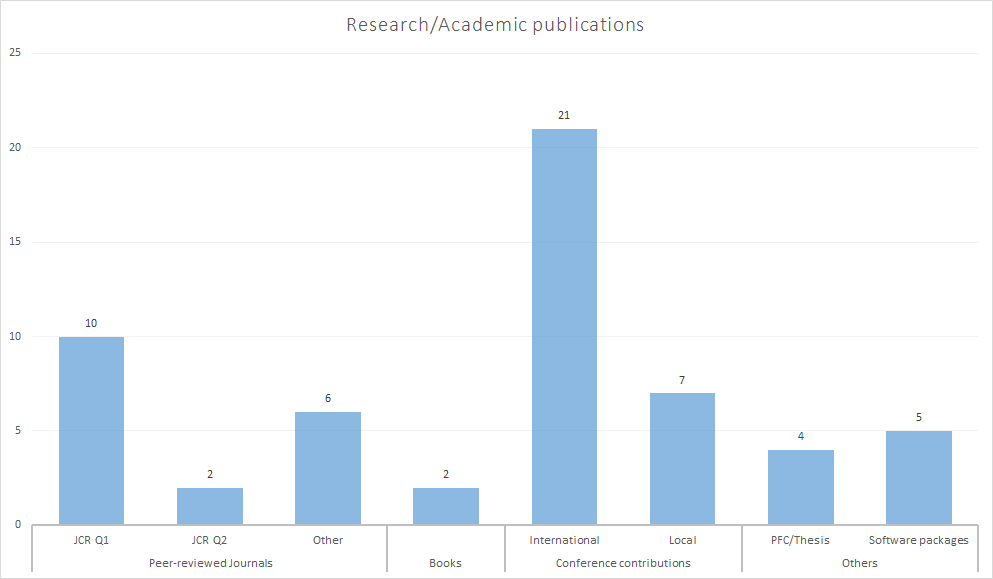 Didactic production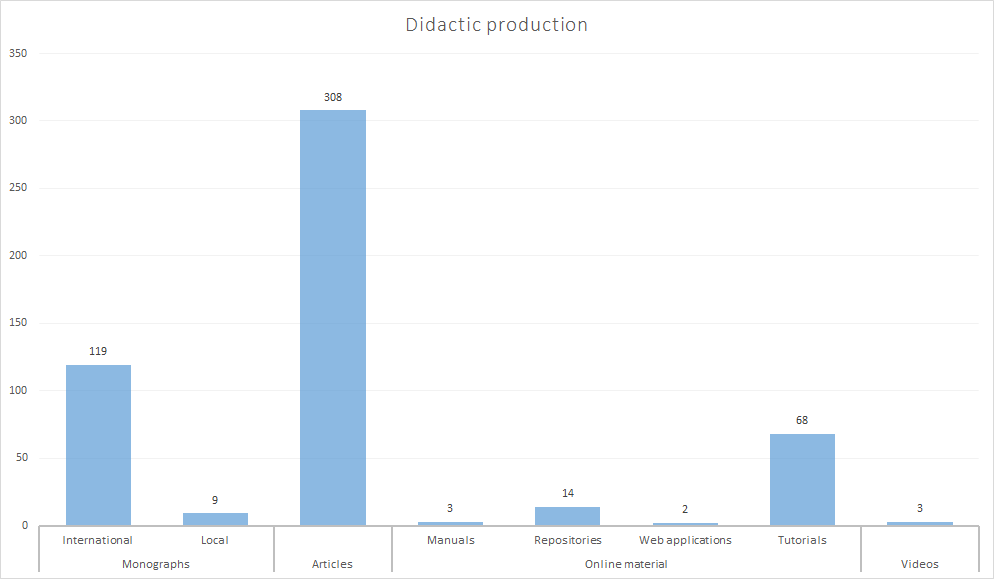 Índice de publicaciones
Journal contributions
JCR Q1











JCR Q2
[1]

Ángel M. García, Francisco Charte, Pedro González, Cristóbal J. Carmona, and María J. del Jesus. Subgroup discovery with evolutionary fuzzy systems in R: The SDEFSR package. The R Journal, 8(2):307-323, 2016. TIN2015-68854-R. [ bib ]

Subgroup discovery is a data mining task halfway between descriptive and predictive data mining. Nowadays it is very relevant for researchers due to the fact that the knowledge extracted is simple and interesting. For this task, evolutionary fuzzy systems are well suited algorithms because they can find a good trade-off between multiple objectives in large search spaces. In fact, this paper presents the SDEFSR package, which contains all the evolutionary fuzzy systems for subgroup discovery presented throughout the literature. It is a package without dependencies on other software, providing functions with recommended default parameters. In addition, it brings a graphical user interface to avoid the user having to know all the parameters of the algorithms.




[2]

Francisco Charte and David Charte. Working with multilabel datasets in R: The mldr package. The R Journal, 7(2):149-162, 2015. TIN2012-33856. [ bib ]

Most classification algorithms deal with datasets which have a set of input features, the variables to be used as predictors, and only one output class, the variable to be predicted. However, in late years many scenarios in which the classifier has to work with several outputs have come to life. Automatic labeling of text documents, image annotation or protein classification are among them. Multilabel datasets are the product of these new needs, and they have many specific traits. The mldr package allows the user to load datasets of this kind, obtain their characteristics, produce specialized plots, and manipulate them. The goal is to provide the exploratory tools needed to analyze multilabel datasets, as well as the transformation and manipulation functions that will make possible to apply binary and multiclass classification models to this data or the development of new multilabel classifiers. Thanks to its integrated user interface, the exploratory functions will be available even to non-specialized R users.



Other peer-reviewed journals







Research books
[1]

Francisco Charte and Lina García. El pasado de la computación personal. Historia de la microinformática (2a Edición). Editorial Universidad de Jaén, 2019. [ bib ]

By the end of the 2010s computers have become ubiquitous. Users are not even aware that they carry them: in their cellphones, smart watches, and other similar devices. This evolution has been made possible as a result of the revolution that took place in the 1970s and the 1980s. It was then, with the emergence of microprocessors and microcomputers, that computing began to arrive at people's houses. This book recovers the history of those devices.




[2]

Francisco Herrera, Francisco Charte, Antonio J. Rivera, and María J. del Jesus. Multilabel Classification: Problem Analysis, Metrics and Techniques. Springer, 2016. [ bib | DOI ]

This book offers a comprehensive review of multilabel techniques widely used to classify and label texts, pictures, videos and music in the Internet. A deep review of the specialized literature on the field includes the available software needed to work with this kind of data. It provides the user with the software tools needed to deal with multilabel data, as well as step by step instruction on how to use them. The main topics covered are: - The special characteristics of multi-labeled data and the metrics available to measure them. - The importance of taking advantage of label correlations to improve the results. - The different approaches followed to face multi-label classification. - The preprocessing techniques applicable to multi-label datasets. - The available software tools to work with multi-label data. This book is beneficial for professionals and researchers in a variety of fields because of the wide range of potential applications for multilabel classification. Besides its multiple applications to classify different types of online information, it is also useful in many other areas, such as genomics and biology. No previous knowledge about the subject is required. The book introduces all the needed concepts to understand multilabel data characterization, treatment and evaluation.



Conference contributions
International conferences






















Local conferences








Other academic works





Software packages






Monographs
International distribution
























































































































Local distribution (Spain)










Educational articles





















































































































































































































































































































Other didactic material
Online manuals
[1]

Francisco Charte. Análisis exploratorio y visualización de datos con R, 2014. [ bib | http ]

R es un lenguaje que ofrece una gran facilidad a la hora de analizar y visualizar datos, gracias a la multitud de paquetes (extensiones) con que cuenta. Este libro, que se puede descargar en formato PDF de forma gratuita, ofrece ejercicios paso a paso para familiarizarse con los tipos de datos de R, cargar datos externos, efectuar un análisis exploratorio y representar los datos de distintas maneras.




[2]

Francisco Charte. Introducción a Visual C#, 2005. [ bib | http ]

C# es un lenguaje desarrollado en Microsoft para la creación de aplicaciones que se ejecutan sobre la plataforma .NET. Este libro, que se puede descargar en formato PDF de forma gratuita, describe los aspectos fundamentales de dicho lenguaje, incluyendo la orientación de objetos, usándolo a continuación para crear aplicaciones de consola, basadas en ventanas, almacenar y recuperar datos de archivos o trabajar con bases de datos.




[3]

Francisco Charte. Turbo Vision con C++, 1994. [ bib | http ]

Turbo Vision es una biblioteca creada por Borland para facilitar el diseño de interfaces de usuario en entornos de texto (no GUI). Este libro, que se puede descargar en formato PDF de forma gratuita, describe los fundamentos de desarrollo con Turbo Vision usando el lenguaje C++, proponiendo diversos ejemplos de personalización, uso de cuadros de diálogo y ventanas, flujos de datos, etc.



Online repositories















Web applications
[1]

Francisco Charte, Antonio J. Rivera, and David Charte. Cometa, 2018. [ bib | http ]

Cometa is an exhaustive collection of multilabel datasets. Available in different formats and pre-partitioned




[2]

Francisco Charte, Ángel García, Cristóbal J. Carmona, Antonio J. Rivera, Pedro González, María D. Pérez-Godoy, and María J. del Jesus. dmServer, 2017. [ bib | http ]

dmServer is a web application that lets you preprocess data and use it to generate predictive models through machine learning techniques.



Online tutorials